By Zan
Quite without me realising, pop-up adventure playgrounds have become quite popular in my community. I am obviously delighted, but boy has it been busy! Here are some little reflections of some of those events this month:
*****
1. Radcliffe Market 3rd May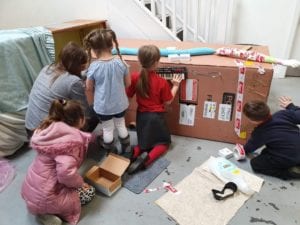 The 4 of them did not know each other, but in that moment, they had become a team. They discussed, and stuck, and poked and assembled what they decided to be a Pop-Up Cinema, complete with screen and screen times. I was invited to a screening of Spiderman after which they decided the cinema needed air conditioning so they poked a bunch of holes into the roof of the box. And then the screenings continued.
*****
2. Accrington Town Square 4th May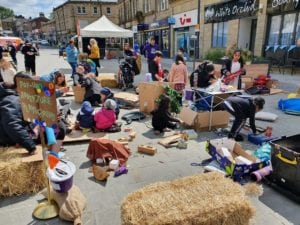 The children of Accrington knew exactly what to do with all the loose parts at this pop-up adventure playground, even if the adults were a bit unsure. After a slow start, the site was bustling, and it was particularly interesting to have the festival going on in the background. It was funny that for the majority of the time, the children ignored the music – they were deep into their play and nothing much brought them out of their own adventures. Occasionally a catchy phrase in a song could take their attention – they would lift their heads briefly, sing along, and then dive right back into play.
*****
3. Manchester Monastery 6th May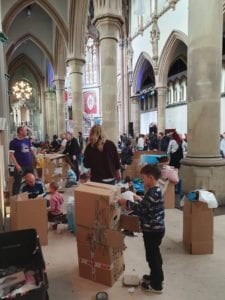 There was an urgency from the children in this play space: they had limited time and wanted to do everything. So the play was intense and focused, and there were a few little meltdowns. Understandable really – the rhythmic beats that echoed through the hall gave a feeling of great excitement but almost counted down to the event's end even before it had began. The children played hard, and you could see the spark of joy in their eyes, that would hopefully keep on blazing brightly at home.
*****
4. Radcliffe Boys and Girls Club 7th May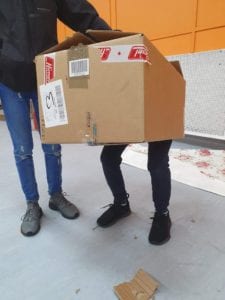 "I am a box troll" he said from within the box. He poked his head out and grinned: he was so pleased with this creation. The rest of the kids in the space were busy doing their own things: there was a Girls Club, a car, an intricately made boat, and a house, a Boys Only Club, and then a dancing robot. And then a buzz of activity flattened most things until there was only a boat left. There were protective tears over the boat that meant that it's cardboard was reinforced with pure grit and determination, and then the session ended. The boat walked home.
*****
Pop-Ups Zan has been working in her community to provide free play opportunities for children. If you are based in Manchester and would like to find out more, check in with this Facebook group.