California, Texas, Online, Online… Istanbul!
Close observers may have noticed our first announcements online, that the 2024 Campference will be hosted with our marvellous friends at Superpool in Istanbul. We wanted to talk a little bit about that choice and what makes these folks so special.
What is Campference?
When we started Campference, the idea was to gather playwork students and practitioners to see a great site for themselves. Our aim was to bring experienced playworkers to welcome new students in person. The name is a combination of "camping" and "conference" (credit to Jeremiah of Campference 2017) because everyone was invited to sleep out on the adventure playground and help keep costs low. We wanted to help people be in a place where things are happening, recognising that amazing places are often overlooked.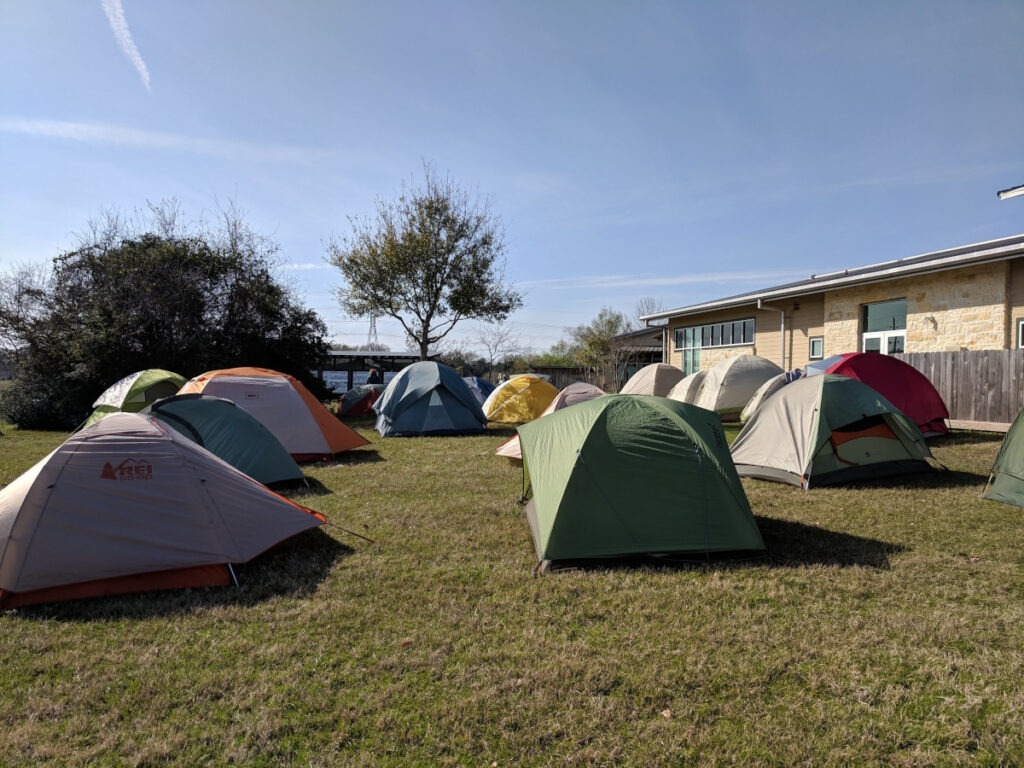 All that's still true.
During the covid years, we moved online. Attendees at the 2022 Virtual Campference were able to hear from Aby in Hong Kong, Sara in Costa Rica and Zeynep in Türkiye. Each keynote spoke in her own language, with simultaneous translations provided in Cantonese, Spanish, Turkish and Portuguese. This powerfully demonstrated that people all over want to learn about playwork, if there's basic access!
Playwork in Istanbul
Since 2020, we have been honoured to build relationships and projects with a vibrant and growing community of playworkers in Istanbul. This is a massively car-heavy city of more than 15 million people, more than 25% of them under the age of 18, so there's a lot of scope!
Superpool, a Turkish-based socially-conscious architect group, invited us to come and visit. They gathered a remarkably mixed crowd of parks and recreation people, social workers, early interventionists, sociologists and landscape architects, to hear us speak. It was clear from the beginning that they were eager to get started! Since then our work together has involved both in-person and online mentorship and training, sometimes with interpreters and always with enthusiasm. At each contact point we have been staggered by what this core group of people has been able to accomplish.
"Rich with Possibility"
Over just three years, they have developed a really strong and shared understanding of play and playwork. Superpool have produced beautiful playwork resources illustrated and translated into Turkish, and grown the audience for such texts dramatically. The pop-up adventure playgrounds they organize with the Istanbul Metropolitan Municipality are thoughtful, welcoming and rich with possibility.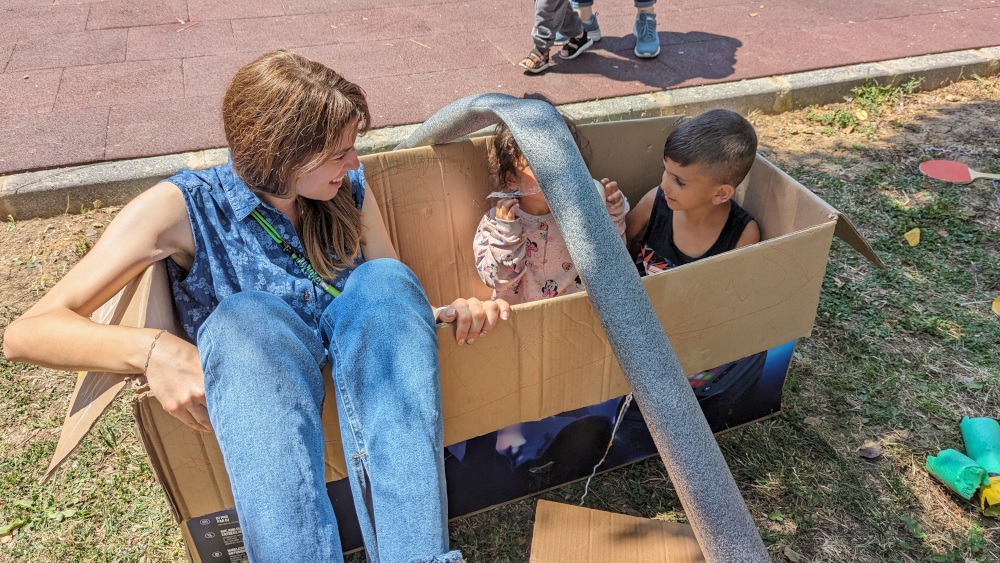 Three years on, their speed and standard of growth has been staggering. Not only is there a whole new post at the Municipality – Head of Play and Recreation – but Suzanna has just come home with the news that they have just hired new staff and now the department has 11 people. This past Summer alone, they've delivered 900 Pop-Up Adventure Playgrounds. We're astonished by these numbers.
When Suzanna and I were both there in June 2023, we sat in the back with an interpreter to observe and support the first accredited Introduction to Playwork course in Turkey. Both in the field and in the classroom, we were so impressed by both the new playwork trainers and students that, well. At those reflective practice sessions, everyone cried.
Taking Campference to Istanbul
While driving us around, sharing historical sites and feeding us on hilltops, Turkish playworkers talked to us. They shared some of what is inspiring about the field of playwork and what is difficult for them about this work. They talk about the joy they experience during sessions, the emotional work of deep reflection, and the complications of playworking in contexts very similar (and very different) to those they come from. Our newly trained playwork friends talk about feeling alone sometimes, disconnected by language, by exchange rates and visas. Much of this will be familiar to you, in tone if not detail.
What have they done about it? Well, they've made more partnerships with organizations and community groups all over Istanbul. We partnered with them to write and deliver an initial training programme that met their needs. Trained playworkers from Superpool now frequently visit and build relationships with people in Albania, Ethiopia and Jordan. When the big earthquakes hit, the Istanbul Metropolitan Municipality's playwork team packed up their Play Vans and went to help. Everywhere they go, it seems, people are finding the playwork model powerful, practical, and persuasive.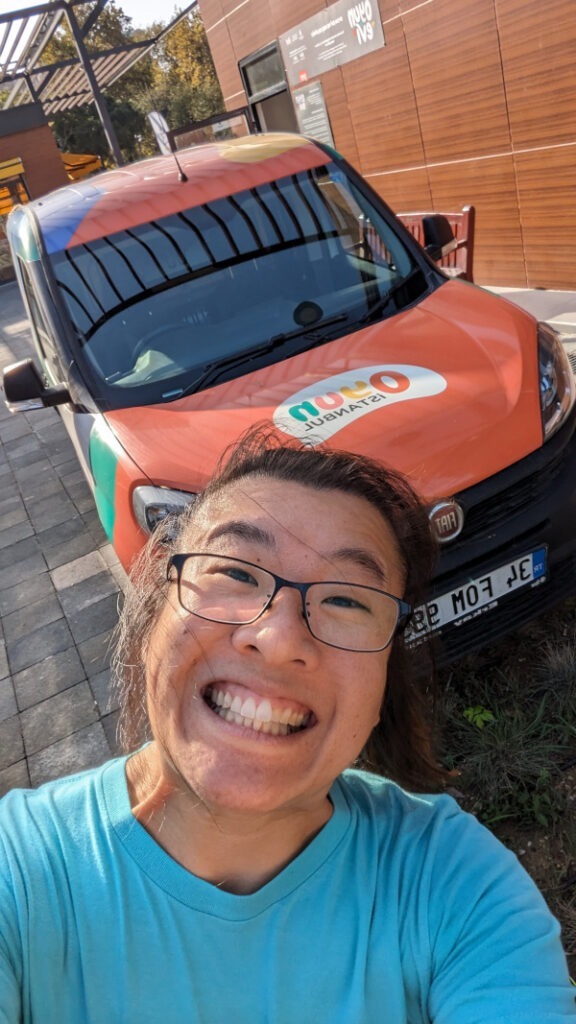 Honestly, these people are amazing! We want everyone to meet our Turkish friends. We want them to meet incredible playwork practitioners, who have experiences they want to share.
Details So Far
Event: Playwork Campference 2024
Location: Istanbul, Turkey
Dates: 24th – 27th May, 2024
Theme: Reimagining Playwork (more on that soon!)
If you're interested in hearing more, fill in this Expression of Interest form so we can contact you directly
Come as You Are
For this to work, we need people from all over. If you're reading this from far away, if Istanbul feels like a big trip for you, please give it real consideration. We can promise you an incredible time, and make tourism recommendations for sites of culture, history and food that will Knock. Your. Socks. Off.
Maybe you're feeling burned out right now. That's understandable. So are we, sometimes. Maybe you're feeling hungry for more of those conversations with people who just get it. Maybe you're wondering what is the same and what is different about playwork, all around the world. How do these ideas, quite literally, translate?
If you come, we can promise you homemade meals and gorgeous views. There will be late night conversations by the fire pit, and stories to make any playworker laugh, cry, feel inspired. We'll help one another remember that we're each part of what makes this community of practice so deeply weird and wonderful.
We guarantee that wherever you're coming from, you'll learn something.
And if you're reading this in Türkiye – get the tea going, we're on our way!
By Pop-Ups Morgan