By Zan
The coming year promises to be filled with adventure.
Right off the bat, we are excited to be just over a month away from the second-ever Playwork Campference, a gathering of over 70 play advocates from 6 different countries in one of our favourite adventure playgrounds: Adventure Play at The Parish School. Morgan and I will get to hang out in person for the first time since October 2017, and will also be popping into the TASP/IPA conference in Virginia in March.
I'm have been invited back to Asia too! I'll be doing some training with the folks of Playright – Hong Kong's Play Association, and will be travelling on to Malaysia to hang out with Queenie Tan and her team. I can't quite believe that I will be going back to a world where everyone looks like me – I feel both privileged and alarmed, but as long as I prioritise the needs of the child at all times, I know that I can overcome my own adult fears.
In between these trips, I also hope to continue developing Just Play MCR – play opportunities in my own community. It was a spectacular 2018, so I hope to fit in more pop-ups in 2019 and gather playful folk from all over Manchester in the name of play.
These are the physical adventures Morgan and I will go on – there might be a few more (and we are always open to more) but so far this is what we have in the books.
Adventure is certainly in the mind for us too as Morgan and I battle to finish our PhDs. It seems like just yesterday that I agreed to dedicate 6 years of my life to a specific area in play and then promised to write about it, but 6 years later, I have still not finished and have had to put it on pause twice. Hopefully, this is the year that I will be done, I will be able to celebrate with Morgan as we put this writing monster to bed.
Having typed all of these plans out, I am excited about the next 12 months. It's going to be a lot of hard work – especially the PhD – but I know that it'll be worth it in the end. Much like trying to put the outdoor gear on a toddler before going outside – there will be tears, tantrums, lots of random excuses and procrastination, and probably even a rogue dragon invasion, but once it's done and we start playing, it will feel amazing.
Hello, 2019 – we look forward to meeting you head-on.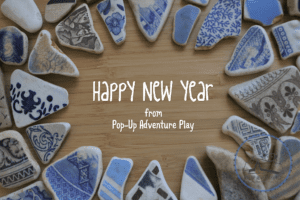 More from us on Facebook, Twitter and Instagram. See you there!