Introducing Ali Wood, a formidable presence in the UK playwork scene. She is akin to magnets or tides, wields subtle yet potent influence. Within a field often rife with macho posturing, she consistently advocates for reflection, compassionate listening, and a radical perspective on being 'on the child's side'. In this field, both within the community and at Pop-Up Adventure Play, we deeply value and embrace her as both an inspiration and a friend. Our excitement soars as we anticipate Ali's keynote appearance at the Playwork Campference 2019, where she will be one of two distinguished speakers.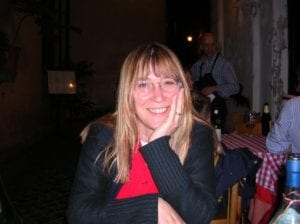 Pop-Up Adventure Play: How did you get into playwork?
Ali Wood: Leaving school, I resisted university pressure, driven by my desire to work with people, sparked at Birmingham Children's Hospital. Engaging in voluntary roles at local youth clubs, art projects, and community centres, I sought to gather experience. Subsequently, I pursued a certificate in youth and community work at Birmingham University. Not until the early 90s did I encounter other 'proper' playworkers, realising I had been engaged in a similar role for a long time. That realization was captivating. In those years, youth work was transforming, becoming more structured, while community work faced dwindling funding. Amidst these shifts, playwork felt like my spiritual home—an arena where work retained its human essence and limitless potential.
Since then, I've remained in playwork—advocating for children's rights, championing their freedom and independence to anyone who would listen. I've relentlessly pushed for reflective practice, crafting stories and anecdotes. My journey has encompassed action research, primarily within schools and adventure playgrounds.
PUAP: What do you love about it most?
AW: I love playwork because it is both incredibly simple and hugely complex; because it draws in a wide range of adults who can be both wonderful and challenging. It continually makes me think or prompts new questions. Personally, it sheds light on my own childhood, elucidating why I felt most alive during play. Most importantly, it views children and young people as inherently capable and competent, advocating their right to play. Being part of this movement is indeed a privilege.
PUAP: How do you play, for yourself?
AW: My own playing is a little tamer physically and less wild than it used to be, but I still love roaming and exploring new places on foot –especially if it involves hills and sea – and make a point of going each year to places I've never been. I am passionate about animals and their welfare and so seeing them in the wild is really exciting. I've recently taken up knitting and am very proud of my finished pieces of handiwork! I can get obsessed with word and/or number puzzles.
I'm at the adventure playground a lot and love being a part of its general chaos and laughter. I also love spending time with my grandchildren and trying to see the world through their eyes.
PUAP: What are you most excited about for Campference?
AW: Meeting and listening to new people who are equally hungry to learn! Being part of an experience where everyone is going to be enriched and fed and inspiring and inspired – that's the best!
Ali was able to hang out with at the second ever Playwork Campference that took place in Houston TX, February 2019. 
By Morgan