Pop-Up Adventure Play is pleased to announce the Pop-Ups Tour 2019: Morgan Edition.
Morgan Leichter-Saxby will be touring across Illinois, Indiana and Missouri during her tour this Fall, and will be setting off on 23rd October. The trip starts in Chicago, then onwards to Indianapolis. There will be a brief stop in St Louis before returning to Illinois to speak in Champaign-Urbana before finishing up in Chicago again on 11th November.
This 20-day tour has been made possible by five different host organisations and individuals who have invited one half of Pop-Up Adventure Play – a small international charity – into their communities. The tour will focus on the importance of play, and how it is vital to support one another by creating a community of children's play advocates. An emphasis on connection and relationship-building will be demonstrated by physically visiting communities that are seeking to prioritise children and their play.
There are still places available to be part of this exciting adventure, specifically for the following locations:
2nd November, St Louis, MO – "The Nature of Play" hosted by Play-MO. Info found here.
6th November, Champaign, IL – "Yoga for All" co-hosted with Kelsey Langley. Info found here.
7th November, Champaign, IL – "Play for Grown Ups!" hosted by KOOP Adventure Play Info found here.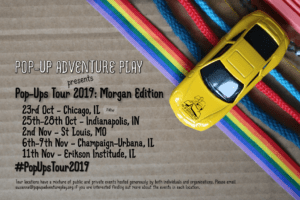 Pop-Up Adventure Play would like to wish Morgan a successful tour and look forward to sharing her On-The-Road stories soon! For more information about the tour, please contact tour organiser suzanna@popupadventureplay.org.