Ozlem is from Turkey and has enthusiastically been writing to us for a few months now. Joining us on the Playworker Development Course as soon as humanly possible, Ozlem has been working hard in play ever since. Here is the journey so far. You can also read the post in Turkish.
The first time I read about the adventure playgrounds in Joel Spring's "A Primer of Libertarian Education" I was truly amazed by the idea! To destroy and to build all at the same time and all in children's hands! This was like a  depiction of a utopia for me, as it was like a training to destroy the rotten world with all of its rotten values and creating a new one; with cooperation, with love and freedom.
After the first shock wave (right after reading these pages tens of times and underlining and taking notes and daydreaming…) I found myself thinking about "How I can do that or how I can make this possible? Is it impossible?". 
"Only if you believe it is." whispered the mad hatter at that moment. So I started to believe it is not…
This was nearly a year ago, when I came to an intersection in my life. And to be clear, that was quite an intersection! Coming across some people whom I haven't heard of before, but I feel like I know them since the dawn of time once I met them…  There, somewhere, my adventure started, and I came to know Suzanna and Morgan. And I came to know Pop-Up Adventure Play!
When I first met with adventure playgrounds in Spring's book; I realised that I had been thinking about stable/owned spaces. Yet Pop Up Adventure Play was hacking this "must". Pop-Ups were like a fairy tale, once upon a time they exist, and one moment at a time, they vanish. You can not prove that they have existed somewhere, sometime; but you can not prove the otherwise either! It can happen anytime, anywhere.
So I started to organise Pop-Up Play Days, the first one was for my daughter's honour on her birthday, with a few children (mostly her schoolmates). Then came another and another and another and another… Soon I became addicted to Pop-Ups; maybe it is just because it is amazing to watch children playing freely. As I started walk on this playful path I realised that Pop-Ups are a kind of alchemy, they can change the trash into anything and/or everything. It is like a miracle happening in front of your eyes.
While running a Pop-Up an adult / an inexperienced playworker may think "what am I going to do now? What is next? Oh I run out of loose parts! How can I carry out this or that? Is it a risk or a hazard? etc. etc… Yet throughout the journey a playworker learns to trust children – I mean literally! If you just let them, they show you everything! Most importantly the children always gives you hope and warm your cold little heart.
From the moment I decided to open space for free play in my life, many things changed. I started to become "a more colourful" human being. At this point, the dumpsters seem like a treasure chest and I find myself hacking conventional playgrounds or carrying junk as a daily activity to design my second floor as a free play space!  (I moved my house in a surreal double apartment in which the second floor is just a little higher than a child's height, (it is similar to the 7.5th floor in "Being John Malkovich") It always made me smile when I read the quote from Alice in Wonderland: "I knew who I was this morning, but I've changed a few times since then." Now I literally understand her, as I go upstairs or downstairs, growing and shrinking spontaneously…
During my Pop-Up adventure I have learned a lot. I have learned to dream something and actualise it. I have learned to observe and to let go; to appreciate all the junk I have, and to turn that junk into anything I want.
I have learned also, to realise the hazards and to take risks, to have the courage to play with fire. Now it is obvious that one becomes courageous because she is scared but still go for it. I have learned that we all learn as we are on our way and we grow at our own pace and in our own way.
Reminding me the secret of the fox; "The truth is invisible to eye and only the ones who look with their hearts can see the truth",  I have seen many times that anything can come out of a cardboard box – sometimes a sheep, sometimes a journey to the Moon!
All these I have learned from children and still learning.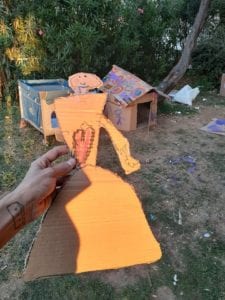 This is Ozlem's favourite photo on his journey in play so far.
To host your own Pop-Up Adventure Playground just like Ozlem, register for your free resource. You can also learn more here about the Playworker Development Course. To find out more about us, check out our Facebook or Twitter links as well as exploring our website further.
By Ozlem Arkun